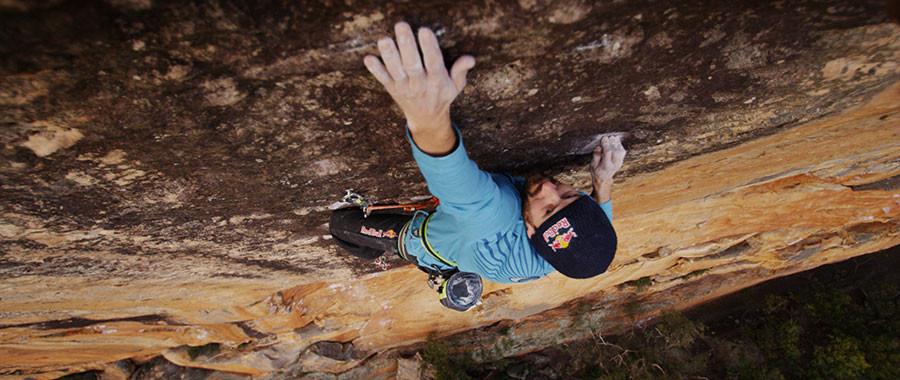 Chuck Frybergers neuster Streifen heisst The Network [Trailer]
Anhand des Presstextes merkt man, dass sich Chuck Fryberger und Red Bull entschlossen haben ein gemeinsames Werk abzuliefern. Wollen wir euch natürlich nicht vorenthalten.
This year, Red Bull and Chuck Fryberger Films have teamed up to bring you a glimpse inside an elite network of some of the best climbers in the world – climbers who live to push their limits on the hardest climbs in the world. They are all connected in a constant cycle of training, competition, and outdoor challenges. The Network connects both past and present – bouldering, sport, and competition climbing – and this cutting-edge film tangles the viewer inside the spider web of connections that makes up the world of the professional rock climber.
Join 6-time world cup champion Kilian Fischhuber as he and the best in the game explore areas old and new for adventures, lifestyle, and some of the sickest moves in the world.
Ois klar, oder? Sickest moves! Cutting-Edge! Hardest Climbs! :)
Facts zum Film
DVD Länge: 75 Minutes

Hauptakteure: Kilian Fischhuber, Anna Stöhr, Nalle Hukkataival, Daniel Woods, Paul Robinson, Sean McColl, Dave Graham, Ian Dory,
Nebendarsteller: Adam Ondra, Lynn Hill, Magnus Mitboe, Stewart Watson und…
 Bestellen/Download
HIER könnt ihr die DVD für ca. 23,-€ bestellen [Vesand ist kostenlos]
HIER könnt ihr den Film für ca. 15,-€ bei iClimb runterladen
Text: kletterszene.com Video:  Chuck Fryberger    Foto: Chuck Fryberger (Teaser)