K2 2011_Gerlinde am Gipfel©M.Zhumayev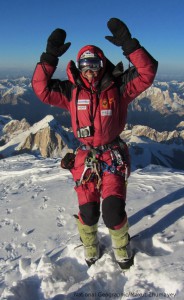 PERMITTED USE: This image may be downloaded or is otherwise provided at no charge for one-time use for coverage or promotion of the 2011 Gerlinde Kaltenbrunner K2 Expedition/National Geographic and exclusively in conjunction thereof. No copying, distribution or archiving permitted. Sublicensing, sale or resale is prohibited.
REQUIRED CREDIT AND CAPTION: All image uses must bear the copyright notice and be properly credited to the relevant photographer, as shown in this metadata, and must be accompanied by a caption which makes reference to the NG 2011 Gerlinde Kaltenbrunner K2 Expedition. Any uses in which the image appears without proper copyright notice, photographer credit and a caption referencing the NG 2011 Gerlinde Kaltenbrunner K2 Expedition are subject to paid licensing.
Photograph © Maxut Zhumayev/National Geographic
Austrian alpinist Gerlinde Kaltenbrunner cheers on reaching the summit of K2, the world's second-highest mountain. By reaching the top, she became the first woman in the world to summit all 14 of Earth's highest peaks without using supplementary oxygen.